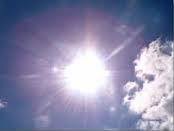 Since 2004, DEP has been identified as the National Coordination Centre for the prevention of heat wave related health effects by the Italian Civil Protection. Currently DEP coordinates the National HHWWS and the Lazio regional HHWWS.
Heat waves and their impact on health can be predicted in advance. Heat health warning systems (HHWWS, capable of predicting extreme weather conditions and their impact on health, are a key component of heat prevention plans, especially when prevention measures are modulated on the level of risk issued by the warning system and targeted to at-risk population subgroups. Warning systems also rise public awareness on the issue and can help to modify individual response and adaptation measures.
The Italian HHWWS, operational since 2004, comprises 3-day warning systems for 27 major cities (regional capitals and cities with more than 250.000 inhabitants).
The Italian HHWWS models are based the temperature-mortality relationship and the identification of air mass to identify weather conditions associated to a significant increase in daily mortality (Michelozzi et al. 2010). HHWWS are city-specific models that predicted at-risk conditions and issue a graded warning bulletin during the summer period.
Activities
Related projects